We are a professional watch manufacturer. Every men's watch is focused on high quality in the market. Every LIGE waterproof sports wristwatch is unique!
"Do the best, show the most accurate time for you."
----------------- Offering the best watches to customers is our long-term belief and pursuit.
This classic men's smart watch combines business and leisure style, is suitable for you in every occasion. Smart watch men are the perfect gifts for family and friends on Christmas, birthday, anniversary, thanksgiving!
The luxury fitness tracker watch offers a variety of functions to bring you a comfortable and smooth user experience!
DIY wallpaper
Choose your exclusive wallpaper, you can choose the picture in your phone and you can also choose a wallpaper from smart watch.
The waterproof smartwatch men has hundreds of wallpaper, you can change the picture as you like, men wristwatch IOS can make you feel fresh every day, fashion is defined by you!
After the Bluetooth connection between the smartwatch and the mobile phone, go to "Watch Face" ----- "EDIT"
You can DIY any way you want to see desktop wallpapers.
When the smart watch is connected to a mobile phone, open the "Settings" → "Notification Configuration" on the mobile APP and turn on the corresponding APP switch, and the watch can receive mobile phone text messages, WeChat, Facebook, WhatsApp, Line, Instagram, Twitter, etc.
Q:Can I make calls with my watch?
A: of course can. After the smart watch is connected to the mobile phone's Bluetooth, the watch and the mobile phone can quickly search for contacts according to the address book and recent call list, or dial directly (need to connect to audio Bluetooth)
Q:How to connect audio Bluetooth?
A: Enter the Bluetooth settings of the mobile phone, and after finding MVxx-Audio, click Connect, and the connection is displayed, which means the connection is successful. (To make/receive calls, to listen to music, you need to connect audio Bluetooth to use)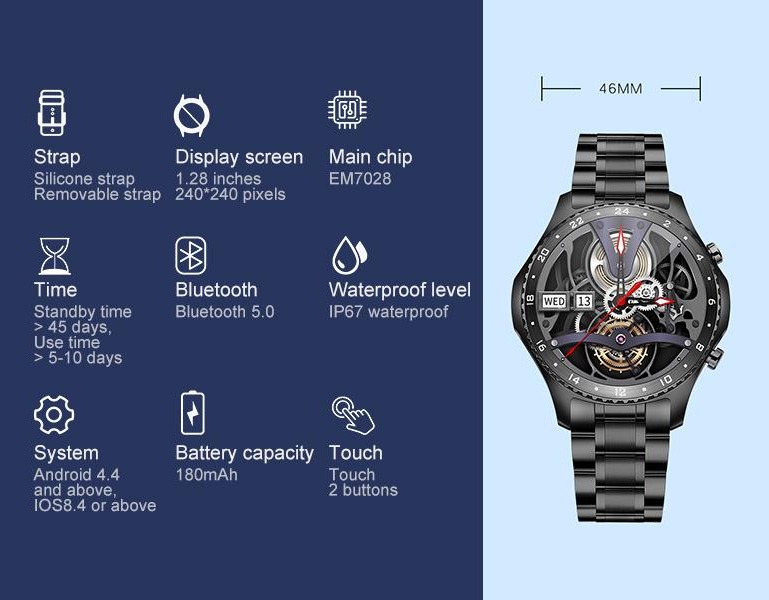 Here are some tips for your convenient use of smart watches:
Q:How do my smart watch connect to my phone?
A: 1. Scan the QR code or enter the "App Store", download and install from major Android application markets (App Store/Baidu Assistant)"V Band" .Then open the App "V Band"
2. After opening Bluetooth, find MVxx-Audio
3.Click on the connection, display the connected representative connection success
The smart watch support system: Android: 4.4 +, ios: 8.4 +, Bluetooth5.0 +
Q: Why can't my new watches boot?
A: The first time you use your new smartwatch, you need to make sure that your watch has enough power and that the low-power watch cannot be opened. Please charge your watch, the watch will start automatically after charging.
Q:Is this watch battery reliable?
A: The battery of the men's smart watch is 180mAh, Magnetic charging port. It can be charged for 2-3 hours and can be used for 7-8 days.